I've been awake since before the sun made its way into my kitchen.
When the darkness outside mirrored the quiet inside, I centered myself between the scent of coffee and the tap of keys.
But now, these gifts are gone, replaced ever so quickly -but smoothly- by morning's first light and my children's first thoughts.
"Can we have pancakes?" One asks.
"Is this milk mine?" Another wonders.
"Morning, mom." A third says. Her voice and eyes and hair, edged in tired.
I pull her close and breathe her in. During the day she is all peace signs and lip gloss and dangly earrings that glint between chocolate locks.
But in this moment, she is small, in the best possible way.
About a year ago, I stood in a room full of women.
My rarely worn heels pressed into stunning plush carpet in deep shades of brown and green and purple. Chandeliers and music and champagne flutes colored the space fancy.
Inside, I was curling into myself, feeling small in the NotBestPossibleWay.
A woman in this room full of bloggers noticed.
Her hand warm on my arm, her voice sweet in my ear, and her smile calming to me.
With the pull of connections and networking and business cards smudging in the background, she stole the moment to tell me -teach me- to use my voice for good.
Like she does.
I think about sweet Nicole from By Word of Mouth Musings's words often.
When I write, when I follow my spark, when I tell my story, I go back to – What do I speak for?
Because one way or another, that's why we blog, isn't it?
To leave our mark, an imprint of our hearts forever splayed. (Otherwise a notebook or a word file would do.)
I'm back in the kitchen with my children, grudgingly welcoming Monday over pancakes and milk and coffee.
"The Lorax was really good." Kayli is saying.
I smile into her words, her very own heart splayed before me. "What did you like best?" I ask, resisting the urge to sweep the hair out of her eyes.
"He was so small, and he did something so BIG."
Indeed.
We all have small in our lives. Small moments woven tightly to tell our story – this is the best way.
But our blogs make our voices BIG, and give us the chance to speak for something. This is also the best way.
In honor of Mother's Day and The Lorax and our Voices, and inspired by these stunning posts by Elaine and Jen, Nicole and I are asking – The Lorax speaks for the trees, what or who do you speak for?
Why do you blog? What can you not keep quiet about? What legacy do you hope to leave with your words and your voice and your heart?
Grab the badge and come link up with us May 6-13th. One randomly picked linker will win a lovely Mother's Day gift.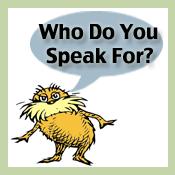 It's your story, tell it.
We're listening.